How can EnterpriseRecruit enhance your Recruitment Process?
Make your end-to-end staffing operation powerful through simplification and collaboration
---
Quick management decisions: Actionable insights through graphical, statistical, filterable, and exportable reporting; and applicant tracking
Effective profile short-listing: Enables job posting, Social recruiting, HR consultancy & internal profile searching
Identify excellent candidates quicker: By scheduling online evaluations with the skill assessment tool
Seamless interview scheduling: Highly intuitive user interfaces and notifications
Effective hiring & status tracking: Customizable workflows and central dashboard
Periodic invoicing & Payment tracking: Integrated invoicing & finance module to track payments
Collaboration: Interactive portals for Recruiters, Interviewers, HR consultancy, Clients & Corporate departments
On-the-move status tracking: Android and iOS mobile apps provide real-time status and notifications
EnterpriseRecruit provides the platform to manage the full Recruitment Life-cycle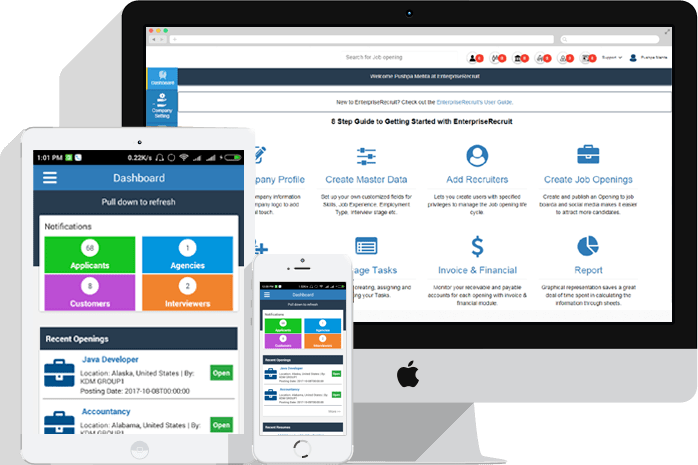 Invite
Invite Top talent, Companies, Recruiters, Departments and HR Consultancy to work together
Assess
Assess the requirements with easy to understand flow, intuitive interfaces, searches and Dashboard
Collaborate
Collaborate with your Clients, Recruiters, HR Consultancy, Departments, Candidates and Interviewers
Achieve
Achieve goals quickly with high quality resources by customizing flexible work-flows
Expand
Create a wide hiring network through EnterpriseRecruit and expand your business across the Globe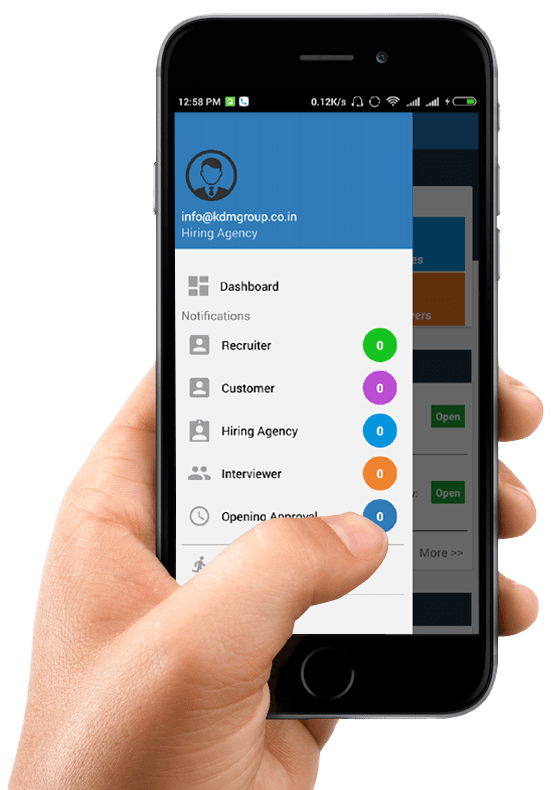 Testimonial
Monetory Solution
It was a great experience working with EnterpriseRecruit. It is a complete HR package to make the recruitment process effective and efficient. It is an Automated system which reduces your time as well as human efforts for screening and recruiting. I strongly recommend EnterpriseRecruit to everyone to make their recruitment process smooth.
Pranjali Dwivedi, HR Executive
My Job Placement
The best part about EnterpriseRecruit is that the user interface is very intuitive and easy to understand. Our managers and recruiters can get engaged very quickly. We have completely overhauled our entire Recruiting process.
Heena Gadhiya, HR Head
Neon Global Services
Thank you EnterpriseRecruit for creating such a good platform which reduces our stress of hiring candidates. Through EnterpriseRecruit, We got every relatable hiring stuff in a single platform.
Mahi Jain, HR Executive
Need timely fulfillment of job openings with talented Candidates?
The hiring process is highly demanding. EnterpriseRecruit provides ease-of-use to make it stress-free just for you
An integrated cross-industry platform to enhance the business processes
Highly interactive collaboration tool to enable the different User groups to communicate via a single platform
The platform lets you keep a tab on each step of the Recruitment stages
A diversified platform to enhance the hiring process and adapt as per your requirement, making the migration swift and effortless
Highly user-friendly, comprehensive and intuitive system for a quick-start eliminating the learning curve
View all Features